Rescue! Brand Traps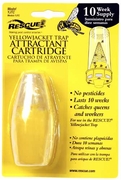 Rescue! 10 Week Attractant Refill for Yellow Jacket Trap. The exclusive RESCUE!® Attractant replicates the sex pheromone of the yellowjackets to draw them inside the trap.

Use one in early spring to catch the Queen Yellow Jacket. Every Queen Yellow Jacket you catch in early spring is one less nest and hundreds less worker yellow jackets later in the season.
Replace the 10 Week Attractant mid-summer to carry you through the rest of the season. What could be easier?
See instruction video to the left.